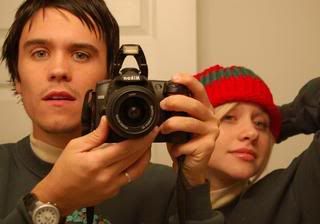 ...i think thats his wife in the pic with him. maybe she's a lesbian? hmmm, not likely.
but this is the thing. i know this is a lesbian moment blog. and im a lesbian. and every now and then, my
moments
involve men (not in THAT way...ew!) and/or straight women (in THAT way...yay!).
joshua james is a musician out of nebraska. he's from that whole *rilo kiley* scene (but im sure he doesnt rub elbows with jenny lewis). ever since i caught his 7 oclock show one day at the Hotel Cafe in l.a., ive been hooked. in case you dont know, 7 oclock is a pretty horrible time to play the Hotel, but there were plenty of people there to see him.
on stage, he has a whisper-quiet presence. if that makes sense. listen to his music, and it will.
go to his myspace page @
www.myspace.com/joshuajamesmusic
(dont forget the "music" part at the end!) to check out some of his songs. my fav on his current player is "fm radio." in fact, i had it as my personal profile's song for weeks. if you like it, then i suggest you order his new cd:
The Sun Is Always Brighter
. he sells it on his myspace page in the interests section.
my favorites from the cd are:
Lord, Devil & Him
Dangerous
FM Radio
You're The Cocaine
Tell My Pa
Commodore
im telling you, "dangerous" is worth $12 on its OWN! and "you're the cocaine" is...well...addictive. i cant help it. i didnt plan on it being addictive. but it is. and i can quit anytime!
ok...now all you lesbians, take your lesbian fingers (mmm) and click on over and listen to mr james. and Saddle Creek, if youre reading, get on the ball, my friends!
i now return you to your regularly scheduled lesbianism.