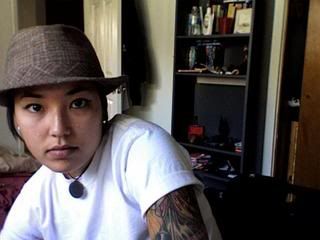 "There once was a time where the days just rolled by one after the other, when things felt "normal." Nothing horribly bad or good would happen, just the regular workings of a daily life. Until that one day, a day that I will remember for the rest of my life, when everything seemed to flip upside down, side ways, and even inside out..."
-danielle
the rest of my friend Danielle's story is really amazing. she's a (HOT *ahem*) lesbian who, after a motorcycle accident 3 summers ago, almost died 3 times, lost a leg, and gained a new appreciation for life, all before she was 21:-) if you want to see more, go to her myspace page at www.myspace.com/dayni. (for privacy reasons, she only accepts friend requests from people she already knows. but i know she'd definitely love to get a message from you!)

in the meantime, here are some pics...since they are worth 1,000 words.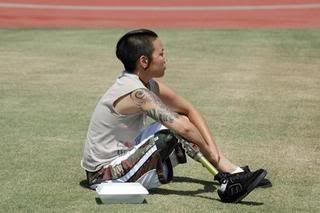 Danielle @ an olympic training center. cause you know, we all do that.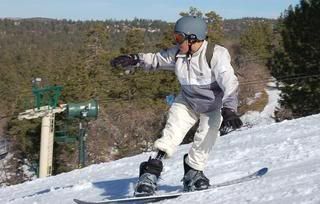 and this is that bitch snowboarding. i cant stand up on inline skates, so im more than envious. bitch. ;-)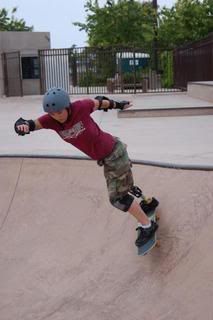 yeah, i cant stand up straight on a skateboard either...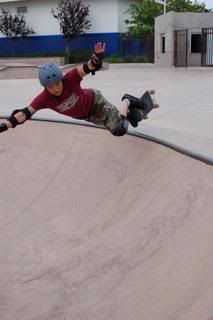 ...so go ahead and show off for the camera danielle...you go right on ahead...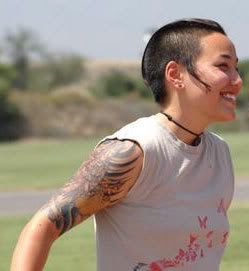 did i mention she's single, ladies?
you can meet danielle on her tour this summer! here's the info from the press release:
"Adaptive Action Sports (AAS, www.adacs.org), a non-profit dedicated to disabled action sports athletes, will be embarking on a skate tour this summer from the 14th of July to the 28th. At each tour stop the Adaptive Action Sport Skate Team or the Amped Riders will put on a demo for wounded soldiers or veterans (vets). This will be a theme for the whole tour. The tour will start in New York City and make its way to L.A. with 8 stops on the way. The purpose of such a tour is to create awareness among the injured vets and within the disabled community as a whole, that sports for disabled individuals, as a rehabilitative tool or for recreation, do not have to be limited to mainstream activities such as swimming, cycling, or running.
July 14th NYC
- The tour will start at KCDC Skate Shop in Brooklyn. The Amped Riders (the "Amped Riders" are the team of athletes that represent Adaptive Action Sports) will demo on the shop ramp with several available pro skaters. An art show will grace the walls consisting of work including several Adaptive Artists. The Amped team will visit local V.A. hospitals to mentor and motivate injured vets.
July 15th P.A.
-The Amped Riders Team will visit the first ever AAS skatepark being built in P.A. There a B-B-Q and press conference will be held to announce the park officially to the public. The Amped team will demo on the existing park. Veterans (vets) will be asked to attend. Transportation will be arranged to bring in vets from local hospitals.
July 16th-17th D.C.
- The tours next stop will be Walter Read hospital in D.C. (Walter Reed Army Medical Center is the Army's largest healthcare facility, and one of the largest in the Department of Defense. They have more than 600,000 visits a year to their main hospital and its satellite clinics; read more at www.wramc.amedd.army.mil/). After stopping at the hospital the Amped team will demo at the Arlington Virginia Skatepark. Transportation will be arranged for vets from Walter Read to attend the demo.
July 17th-18th Orlando Florida
- The tour will fly to Orlando from D.C. or NYC to attend the second annual Extremity Games by College Park (the first disabled X-Games style event specifically for individuals with permanent physical disabilities; www.extremitygames.com). The day before the games begin the Amped riders will demo for local veterans on the E.X. Games facilities.
July 19th -21st
Second Annual Extremity Games
July 22nd -Vans Warped Tour, Orlando
- Adaptive Action Sports and the Amped Riders will operate a booth at the July 22nd stop of the Warped Tour in Orlando. The Amped Riders will demo on a mini ramp at the event and AAS will man an informative booth to raise awareness about disabilities in action sports.
July 23rd-24th San Francisco
- The Team will travel between the 23rd and 24th of July to San Francisco to team up with Zac Smiths' Collective Sound (The Collective Sound is a California based music camp; The goal of The Collective Sound is to present youth with an authentic musical experience in performance, recording, and touring through the vehicle of rock, electronic and popular music; read more at www.csuchico.edu/mus/ethos/). A select group of the camps bands, an art show and demos by the Amped Skate Team will fill the lineup for a festival style fundraiser for Adaptive Action Sports that will be called the "Youth Movement Co-Op." The camps bands will open for headliners in each city. The event will be held at outdoor venues and include educational booths and product giveaways.
July 26th- San Diego
- "Youth Movement Co-Op"- Here vets from camp Pendleton will be encouraged to attend the event. Transportation will be provided.
July 27th- Los Angeles
- Final stop of tour "Youth Movement Co-Op"- The final date of the tour will be held at The Lab, www.thelab.com, in Costa Mesa Ca."