ok so let me get to the point: this chick...
...reads this blog. on a regular basis. and likes it.
yes...i mean
this
chick:
*gulp*
ever since i met
Jennifer Arroyo
that one time on that one tour bus when she was still with this one band...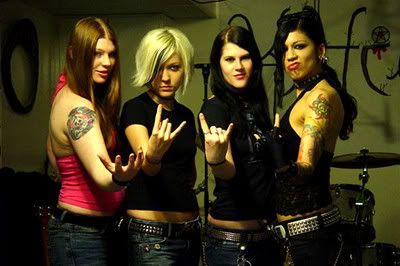 (Kittie)
...and she said that the only way she would ever do a duet with Britney Spears is if she'd get to sleep with her afterwards, i've wanted to marry this woman.
years later, i find out that she's diggin' the site. gotta love the internet!
today, Jennifer's knee-deep in all sorts of work, from promotions to djing on the east coast, to working with her new band Suicide City. this is one of their videos for the song "Give Me Your Pity." i like it cause it rhymes with "suicide city" AND "titty." and in the vid, Jennifer's wearing a belt buckle that says "PUSSY" on it. its like she's been asking for me all this time.
check out her
myspace page
to see her DJing/band gig dates and to find out more about Suicide City!