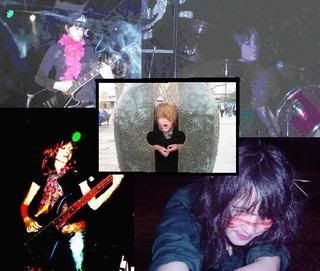 (
www.myspace.com/ilovememorethaniloveyou
)
i was told about this band from Essex, UK about a month ago and have been really excited to let you guys know about them. so when i went to their myspace page this morning to listen to their songs again and choose my one or two favs to recommend to you, i found a problem: theyre ALL so fucking good that i can't choose one! so you're gonna have to go check them out and listen to all four. and i have a feeling, it won't be that much of a task for you after hearing just a sampling of one...
when i listen to these girls (yeah thats right, all girl band of 17 & 18 year olds, "some queer, some straight"), i feel sorta British and mega cool. i feel like i'm on the list. and i got the vinyl. and it would be totally fine for me to walk down the street wearing anything these girls are wearing in their pics. its just feel good music...awesome (like...really really awesome) vocals, wicked songwriting and construction...and their myspace page is pitch perfect.
they're having a record release at the end of this month. i wish i could be there, but i do hope they offer a way to buy the album or songs online. might i suggest itunes? i would suggest snocap since it's myspace's official way to sell your music on their site, but i know lots of artists have been having issues with it lately...so i dont wanna send you in the wrong direction.
everyone reading this, stop what youre doin for just a sec and go to
www.myspace.com/ilovememorethaniloveyou
and set the sucker up to play. i'm currently listening to "baby eyes." but i guarantee you i will be listening to all 4 songs on repeat...most of the day:-)