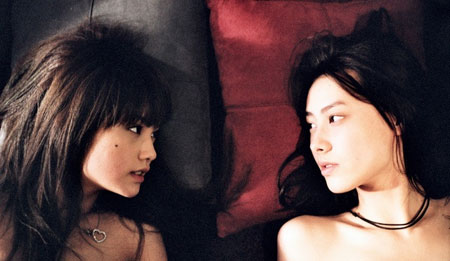 I came across this film from Taiwan called "Spider Lilies" a few days ago. (A couple of days later,
this chick
mentioned it to me too...so thanks for lookin' out!)
In my lesbian research, I've found that most reviews of the movie--which was released this year--are pretty bad. Lots of promise, they say...but just doesn't deliver. So I figured I'd give you what are probably the best of the movie right here: the trailer and the love scene. That's usually true of lots of movies, now that I think of it. Hmmm...
In this clip, you'll notice that lesbians are found in their natural habitat: on top of each other. Enjoy...oh and for those of you suspecting, yes it
is
me who is singing this little diddy. I think I did a pretty good job of mastering the accent, right? I'm hooked on phonetics. I wanted my vocal performance to be delicate and pronounced, like a lily dancing in a pond. How do you think I did?:
And here's the trailer...that makes it
look
like a pretty rad movie. Perhaps it really is and all 20 critics were wrong? We should give it a chance: