Well well well. I attended my first L Word premiere last night in Los Angeles. It was definitely trial by fire. I was thrown into the heat of hundreds of lesbians and lezbefriends who were foaming at the mouth to see the cast of the show in person, get their drink on, and get the frick out of the RAIN.
Here are some of my observations of the event:
-
Lesbians fucking LOVE them some Pam Grier.
There was a little walkway that all of the cast walked through in order to get to the VIP area, and people could line up with their cameras to get a shot. There was a spotlight following them...really nicely done. And when Pam Grier strutted by, you would have thought Elvis had entered the building.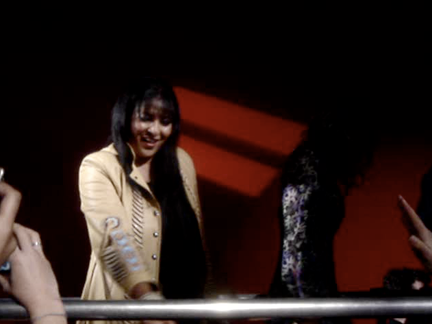 (picture by Papertile)
-
Pam Grier would NOT say "Who Dat?"
Just as I suspected. Aside from Jennifer Beals, Pam was the most well-spoken and eloquent of all the cast when speaking to the crowd early on. Listening to her made me even more dumbfounded by the lines that are written for her. Someone has GOT to explain to me why they still have her saying things like "You betta not fo'get my black ass when you rich," etc. I thought blacksploitation was OVA. Ilene, you know my number. Holler at me.
-
When Kate Moennig says the words "Ready for the sex??" into a microphone, oceans part, shoes tie themselves, and lesbians lose their goddamned minds.
It's more powerful than playing Kelly Clarkson's "Since You've Been Gone" at a lesbian bar around 1am. Kate's THAT powerful.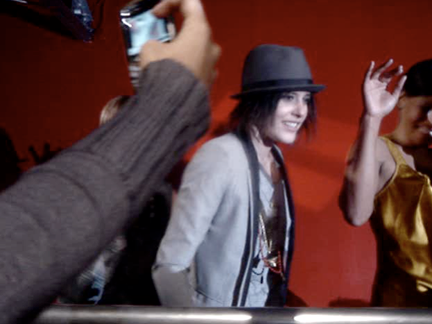 (picture by Papertile)


-
Paris Hilton was Mother Teresa in her former life.
It's the ONLY explanation I can come up with to justify the fact that she's so famous now for doing absolutely nothing. She showed up sort of midway through the official premiere and walked right past me, and then went with Kate and some of the other ladies to the after party at the Falcon. The night was about hundreds of thousands of lesbians celebrating our beauty and what I assumed was a campaign for human rights (since the events were hosted by the um...Human
Rights
Campaign, ahem...) but you're telling me the only thing that came of it was this??:
CLICK TO SEE PICS
Hmmm... alright, I guess.
-
V.I.P.? Well depends on your definition.
I had a V.I.P. wristband that got me back with the cast and in the Paris air, and all that bull...but by the end of the night it ended up in my pocket, cause *very important people* were in the other room:-) It was SOOOO cool meeting everyone I met last night who came up to me to introduce themselves. People wanted to take pics with me. How cool of them is that?? I hate having my picture taken, but there was no way I would turn that opportunity down. You guys are amazing. Please always feel free to come up to me if you see me out. I love it. You make me feel sane in this crazy town.
-
I might be pregnant with Rachel Shelley's love child.
Last night when I got home, I posted a bulletin asking if you guys thought it might be possible for me to get pregnant by standing behind Rachel, staring real hard and for real long, keeping my mouth agape, muttering the words "oh my damn...oh my damn" over and over again, and crying a little on the inside. This is how things
seemed
to go down (ahem) with me and Rachel Shelley. She was one of the first people I saw and um...I don't care that she's on a popular tv show, or that she has a little money in the bank. I did what any self-respecting dyke would do in my situation: I stared. HARD. And imagined some sort of candlelit love making at my cabin (that doesn't exist). Rachel honey, you had me at *high heeled black boots and tight pants all up in my vicinity*.
-Lizzy the Lezzy
got more pussy than I did.
She always
does
, though. Congrats to Ruth Selwyn for being invited by the HRC to have her special Lizzy video air at all HRC L Word premieres around the country. I was so proud when I saw it. I took this very dark clip on my cell phone...
-
I need to get out of L.A....STAT!
Or least stop going to places that have a "list" and a "vip"...with people who don't appreciate "air quotes." Oh...man...I know the grass is always greener, but take me to a place where the *content of your character* is more important than the content of your purse!!
All in all, a great night. I was honestly there for you guys so that I could tell you how it was. If I had my ruthers (thats not how you spell that, is it) I would have watched it from my bed while eatin' bon bons and fondling my...remote control. But I loved every minute of it...from the heartwarming (a few hundred women screaming at the top of their lungs when the cast appeared gave me goosebumps, for real)...to the ridiculous (Paris Hilton?? Seriously. Hmm.) I hope there's a season 6 so we can do it all over again!
Enjoy the season...