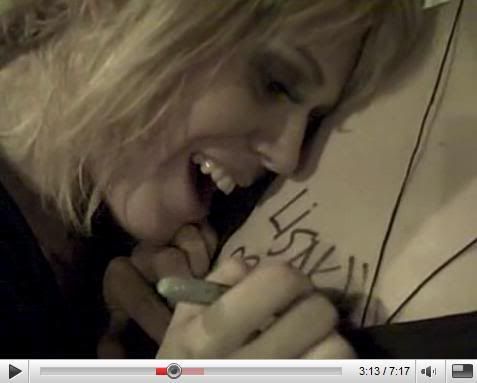 ( click on pic and choose "watch in high quality" )
Yeah let me bring you guys up to speed on what's been goin' down in my world recently. I went on that CRAZY 6-day mini tour with my friends in Killola. I met some AMAZING people along the way. Of the 6 nights I had to sleep on the road, I slept horizontally on two of them. The other times were spent either on a train, or just not sleeping at all. I was exhausted for the whole trip. But it was SOOO much fun. I wouldn't change a thing. Well, maybe next time I'll have hotels or somethin;-)
The reason you haven't heard from me since I got back home on Thursday morning is cause I've been SICK AS A DOG since! I didn't leave my house for 4 days straight. And I spent most of the time in bed, with my mom (who was thankfully visiting!) bringing me food, water, and meds like a nurse. So by my calculations, on my quest to meet 10k people, I'll get sick about 40 more times. I'm ready! Whew.
I brought along my little Flip Mino video cam (best investment, EVER) and took some footage when I was drunk. Did you know that on the East Coast, you can get well drinks for $1.50 in some establishments?? Yep. In West Hollywood, drinks are anywhere from $8 to $12 each...so you do the math on why I was drunk so much. Anyhoo...I took some footage, and here's a sample of it. More to come along with pics added to my 10k site very soon!
Go here and click on "watch in higher quality" for the full effect, por favor:
http://www.youtube.com/watch?v=acFEQYS9xtA
Today and tomorrow will be spent sending out the last of the magazine orders I have. Once you get your magazines, send me pictures of you holding it up! The more public, the better:-) I can't wait to hear all of your feedback about the contents/pics/sexcettera. Let me know what you think of your INTERLUDE!
Tomorrow, Wednesday, Thursday and Friday will also be spent sending out dozens and dozens of tshirt orders. Elf Arlan is on it...don't you worry. Sexy times await.
Also, I'm having a 50% off tshirt sale right now! 10 of my designs are just $10 til this Friday night. Get em while you can before they go back to their regular price!
http://ydlmshirtshop.blogspot.com
To help celebrate the sale, I'm also giving away a free Ipod Shuffle OR L Word Season 5 DVD to 1 out of every 100 people who sign up between now and Friday night. No purchase necessary. Get details at:
http://ydlmshirtshop.blogspot.com