*Update: I've noticed some confusion where some people think you have to live in NYC to apply. Just to clarify, you do NOT have to live in NYC to apply for this PAYING gig. Jincey is flying people in! So if you think you've got what it takes, apply, no matter where you live, and Jincey will make her decision based on what she's looking for for each scene, not where you live:-) This is truly a unique opportunity...read below for the details...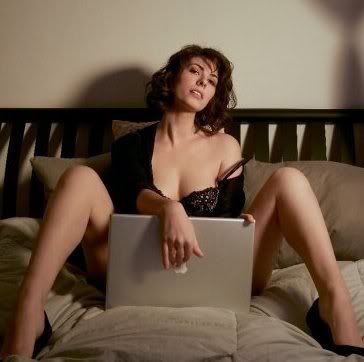 (Jincey's looking for a few good women...)
No, seriously:-)
Oh my friends, today I bring good tidings. Everyone is going to benefit from today's post. Those of you whose dream its always been to star in a sexy, professional, lesbian-produced/directed porn to be seen by thousands of girls around the world...and those of who you whose dream its always been to WATCH sexy, professional, lesbian-produced/directed porn along with thousands of girls around the world:-)
By now, you have to realize that I *heart*
digiromp.com
founder Jincey Lumpkin. Her quest to be the "lesbian Hugh Hefner" is just a beautiful thing. She's really done some amazing things for chicks in the past few months and is going to take it to another level this summer! I am thrilled to announce the open casting call information for her new lesbian erotic film series: "
Taxi
." I think its worth noting that you'll see lots of roles for "femme" girls...that is because other types of women have already been cast. Just fyi, yo...
(Serious applications ONLY. 18+ ONLY. If you apply, tell Jincey that Arlan sent you to get priority consideration! Oh, you're welcome. ;-) )
Single White Femme, LLC is on the lookout for sexy women to star in a hot, new project called "Taxi", shooting in New York City in July.


CONCEPT:
In the back of one New York City taxi 11 women experience the most sensual encouters of their lives. Directed by internationally acclaimed fashion photographer, Diana Scheunemann (www.dianascheunemann.com), Taxi will be the first in a series of erotic short films produced by Jincey Lumpkin, Esq. for her brand-new membership-based streaming erotic video site launching in September. We're making luxury lesbian pornography for the American Apparel Generation. Movie sex, but hardcore and without the story! Join the revolution.



LOOK:


Shadowy, retro, cinematic, inspired by steamy classic European films.



DATES:


Shoot is scheduled July 6-12.



STARRING:


So far, a few vets and some new faces, too- Jiz Lee, Syd Blankovich, Madison Young, Dallas, Nic, and Sir Sterling.



SEEKING:


We're still looking for the following roles
-2 Femme gals to play in a "first time scene"
-1 edgy Femme to play a dominatrix and get down and dirty in rough way
-2 Femmes comfortable with strap-on play



COMPENSATION:


We will pay travel, lodging and the customary rate for lesbian scenes. If you live outside of New York, we will pay for travel and lodging.



Be a part of the glitter and glam that will soon be streaming from the computer screen. Contact the project's producer, Jincey Lumpkin, Esq. at jincey@gmail.com if interested.