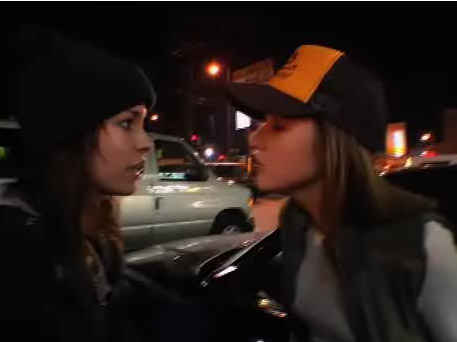 Life is SO strange and unpredictable. For the past 3+ weeks, I've been working as a production assistant on the set of the new feature film GIRLTRASH: All Night Long. I got the gig so that I could learn about the movie making process in general since I knew zip about it before, and so that I could let you guys know about the progress of the movie. It has been an awesome/amazing/ridiculously cool (AND EXHAUSTING--did someone say 14-hour work days nights??) experience. We're taking a break in filming right now and will return in January to finish.


The movie stars Lisa Rieffel, Michelle Lombardo, Mandy Musgrave, Gabby Christian, Rose Rollins, Clementine Ford, Kate French and more! Check out this message from Lisa & Michelle that we recorded exclusively for YOU guys! They're dressed (and Michelle's hair is in a fauxhawk) for a secret scene in the movie...crazy huh:-)

I just want to go on record right now as being the first to officially announce the birth of a new lesbian-icon in Michelle Lombardo's "Tyler" character. I can't wait for you guys to see this movie for SO many reasons, including Michelle's complete transition from Sports Illustrated model/Californication's "surfer girl" to a chick that could easily go toe-to-toe with SHANE in a group of girls any day of the week. Mark my words you guys, Michelle Lombardo WILL BE your new lady-crush. For realz.


And check out this footage of Gabrielle and Mandy recording with Lisa Rieffel for their MUSICAL scenes! Angela Robinson (aka The L Word's best writer/director...duh) and Alex Kondracke (GIRLTRASH film's director!) are also in the cut:



Not sure what GIRLTRASH! is? No prob. Take off your top and check out some of my older posts. I mean, you can keep your top on, but you'll learn more if its off. S'alls I'm sayin. My Ebert & Roeper (sorta)-type review on AOL's Gay & Lesbian blog Queersighted

Seems that I've mentioned GIRLTRASH on this site 55 times in the past 3 or so years. Click HERE to see the list, yo. And while your top is still (hopefully) off, read more about my Angela Robinson-love:

Click for all of my Top 10 L Word lists from Season 5!