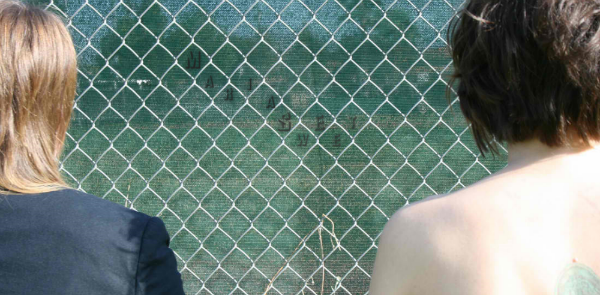 Hey kids! As you know, I've been rocking out and sharing
my love of my friends in the band KILLOLA for years
(<--scroll down once you click that link). Besides being a LOT of fun and incredibly geniune/awesome people, I've also admired them because they've always been on the cutting edge of new and impressive ways to create, promote and deliver their music. From releasing FREE records (whoa) to being the first band to offer usb albums that update automatically with live shows, basically KILLOLA is the gift that keeps on giving.
So when I found out that they were starting their own record label, it made perfect sense. The only thing that makes MORE sense than that is the fact that lead singer Lisa (also the star of GIRLTRASH!) is preggers with bassist/band mastermind (and husband!) Johnny D's lil' babuh. The thought of their kid and Pink's new baby starting a band
kinda
makes my life right now.
Anyhoo, the first signed artist to KILLOLA's
Our Records
is a two-piece band called
'Maria Sweet'
. Jess and Dani seem super adorable (and ya know, hella homosexual), and I can see their music on many an indie flick soundtrack in the near future. Ladies, take off your loafers, put the kids to bed (disclaimer: there is drug use in this vid. Much like that of my
brother Rook's music video
that I love SO much, but don't necessarily want to promote the drug message since I'm all sorts of weed/alcohol clean now:-) ) and ya know, get all lesbianic with me:
("Plain Night" by Maria Sweet)
You can follow Maria Sweet at
twitter.com/MariaSweetMusic
Hear more music at
mariasweet.com
AND here's KILLOLA's latest video (with a cameo from actress Taryn Manning)
("She's a Bitch" by Killola)
I'm PRETTY sure they wrote this song about me. Here's hoping!
You can follow Killola at
twitter.com/Killola