Hello hello! So here we are again. I started this special series of blog entries last month (
Click here for Jan. 2012
) and am happy to report that...well there
is
more to report. I have *words* to say about February which means the clock hasn't yet struck midnight on this little fairy tale I'm living.
(
My friend Adriana and I doin' a faux prom pic in the middle of a hotel in LA a few days ago. That's normal, right?
Oh and although it definitely looks like it, she is NOT in love with me. Totally looks like it, though, doesn't it. Sheesh, no means no, lady!
)
Now don't get me wrong: the job I have (like I'm sure it is for most of you reading this) is a LOT of hard work. Truly. It's mentally and physically challenging and there are a VAGILLION moving parts and lots of high stakes gigs/days. But the good news is that I LOVE that sort of energy. I love high stakes. I love having a ton of responsibility and people looking to me for answers. I love still having so many questions, and being a sponge, soaking it all up each and every day. Cause I know one day I will be jaded. One day this will just be a J.O.B. I hope that doesn't happen for several decades and that when it DOES happen, I'm somewhere on a jetpack and it won't matter anyway:) So the point is, I don't take a minute of this for granted.
And while January was chock full of gigs and jetsetting and ROBES (see link above), February was relatively quiet until the veeery end. I spent most of February in Houston working on a few things from home, watching Criminal Intent marathons, and gaining SO much weight all throughout and about my person. I also came across some old photo prints that I did years ago in a dark room and it really has me inspired to pursue photography more seriously than ever before.
(My brother Alfred, hand printed)

(
This chick that used to work at my favorite restaurant in Dallas, Mother Mesquite's, hand printed
)
The last week in Feb, I got a call that we would have to fly to LA the very next day for a big CeeLo show in Hollywood. We spent a few days in rehearsal...
(The band playing during rehearsals)

...and I spent a few minutes staring at this sign that I came across...
(
No biggie, just where my wife Katharine Mcphee's mom teaches and coaches American Idol contestants and others, and where my wife got her chops back in the day. Yep. I was able to *go to there*.
)
SO, speeeeaking of women named after felines who I am married to, did you guys catch when my other wife Cat Deeley retweeted me in Feb? No? I'll show you: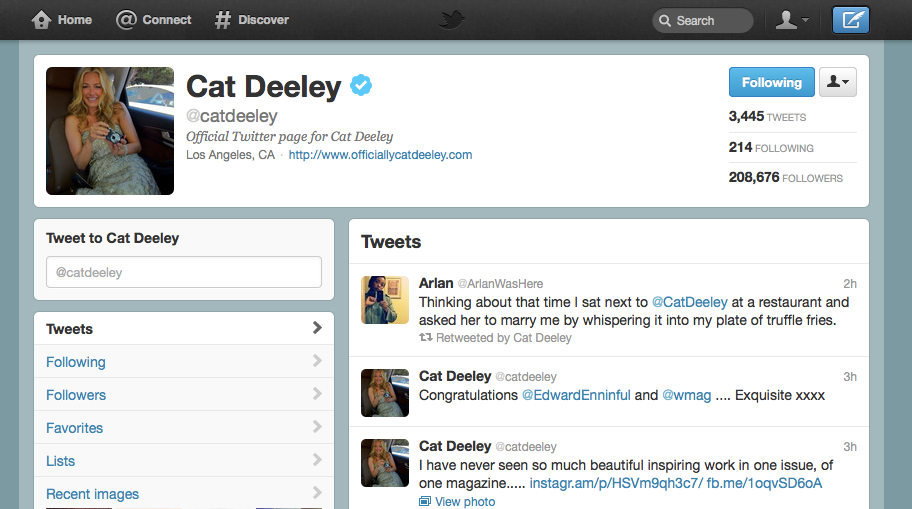 That was cool, right? Know whats even cooler? Days later when I find out that Cat Deeley not only has great taste in food, tweets, and Arlans, but she ALSO says yes to the best gigs. She HOSTED the show we did in Hollywood! Good thing I didn't realize this until the night before the show, or I'm pretty sure I would have hyperventilated days earlier and wouldn't have been able to make it to the show at all. All tolled, I spent about 6 hours in Ms. Deeley's tall, luxurious, babe-alicious presence, and I can tell you this: the woman is HOT, friendly, DAMN good at her job, and an overall pleasant individual to be around. Unfortunately I did not get to redeem myself and ask for her hand in marriage, because she's a lady and I'm a professional...aaand truth be told, anytime she'd look in my general direction, I'd giggle and turn into a bowl of jello. But next time, I'll be rock solid, my friends. ROCK. SOLID.
(
My view of part of soundcheck at Hollywood and Highland. New artist 'V' was preparing for her incredible duet with CeeLo. She sounded great!
)
You can see pics from the red carpet and the show itself
HERE
!
So thats a wrap for February 2012. I now return you to your regularly scheduled Daily Lesbian Moment blog:) See you again a few days into April where hopefully there will be even more to report. Shenanigans, I tell you. Pure shenanigans!
- (
Click here for Jan. 2012 blog entry
)