Name: Jenn
Age:17
Location: England.
Myspace URL:
www.myspace.com/jogma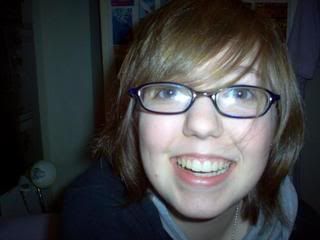 "Hello! I like making new friends. I'm not into the dating scene because I'm so very UN-smooth and couldn't catch a fish ,let alone a chick. I don't mind it though. Plus I'd rather have a good friend than a fling I'd like to think.

Overall, I'm very geeky. I love books and Grey's Anatomy. I'm a big traveller and I like to walk places and see how far I've gone with my trusty step-o-meter. I'm the biggest movie buff I know. I just started juggling and clay painting. I'm kind of new agey and believe in choices and fate and such. I hate making decisions so I leave it up to the coin. Foreign films and subtitles are the way to go. Intellectual talk is flipping fantastic, but I don't shy away from acting my age. I like being silly and daft when it comes down to it. As Mike Myers said; "Silly is you in a natural state, and serious is something you have to do until you can get silly again." Good times. Smart words."