Exactly 4 weeks ago, I said the following about Australian singer Missy Higgins:
I'm no Perez Hilton and I'm not in the business of outing celebs just for the sake of outing them. But I certainly hope the rumors are true and this chick's at least bi cause I have a mad crush on her.
Well guess what, kids. Pop open a bottle of Shiraz, cause Missy just came out: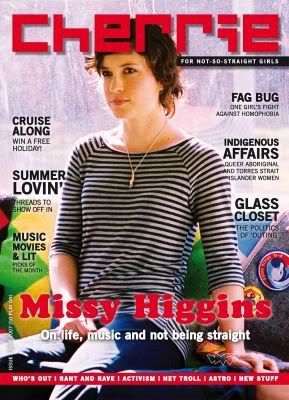 (
Cherrie
is Australia's magazine for "not-so-straight girls")
Thanks to reader
Leah
for telling me about this breaking story. I have to admit though, I thought she was talking about Missy Elliot at first. That'll happen in 08'. Quote me.
There's lots more info
here
. To see my post about Missy from last month, click
here
.