Ourchart.com is doing it again! If you want, you can watch episode 8 in its entirety RIGHT NOW. Keep in mind that because this is being presented by Showtime and Ourchart, it is censored for strong language and sexual situations. SOOOO...you'll still have to watch next Sunday to see Jenny's left and right boobs in all their glory. Just lettin' you know.
Note to all those outside of the U.S. who heard you could view the episode on my site. That was true yesterday, but Showtime took down the embed link on their vid to stop it from happening. I guess that's understandable. Sorry about that. Maybe there are other ways...

Click here to view it now!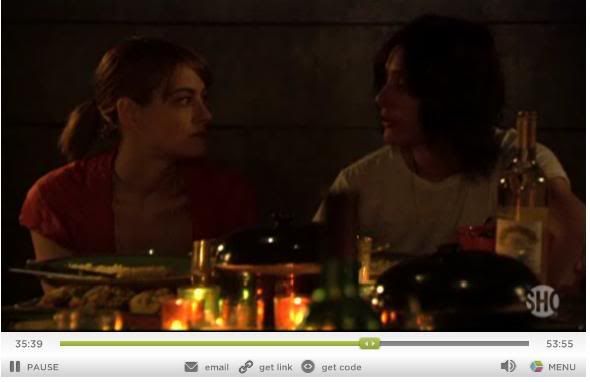 Psst...Click here for 40% off sale on select in-stock L Word, Pink, and Tegan & Sara shirts. First come, first serve.

Courtesy of Ourchart.com!
Click on that link to go to L Word creator/writer Ilene Chaiken's blog about the first half of the season and to leave comments with other Ourchart members!