I saw
"Sisterhood of the Traveling Pants 2"
today, and it dawned on me that this is the perfect movie to watch if you're questioning your sexuality and need a little help. Here are some surefire ways to tell if you're a homosexual lesbian once you've seen the movie:
10. You recognize the actress who plays Alexis Bledel's little sister as "that hot chick's hot little sister from Bionic Woman" and proceed to undress her with your eyes even when she's not on screen.
9. When Amber Tamblyn's character says a line with the words "the 'l' word,"--meant to describe "love,"--this image instantly pops in your head: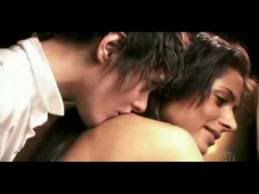 But to be fair, this image pops in your head when you order your popcorn too.
8. You wear your signed "Ugly Betty" underwear to the theater and giggle at your little secret each time America is on screen.
She sure cleans up good. Damn.
7. The first time Alison Folland is on screen, you jump out of your chair and scream : "All Over Me!!!"
and then miss 5 minutes of the movie because of distracting flashbacks of this hot Leisha Hailey scene:
**UPDATE 2010! If this clip turns you on right now, you are a lesbian. Don't even have to finish this list. You are welcome.
6. You know who Alison Folland is.
5. You hear moaning in the audience at least twice during the movie, and when you look around to see where it's coming from, you realize it's you.

4. You applaud every single time Blake Lively is on screen.

I did, and I'm

SO

gay.



3. Once the credits start rolling, you sit in the theater hoping that instead of bloopers or pics of the cast when they were in high school, they'll show the deleted orgy scene.

2. Once you realize there is no deleted orgy scene, you immediately add one to the script you've been writing: "Sisterhood of the Traveling Pants 3: Bitches Stranded on an island in Greece Get Buck Wild."



1. You're watching "Sisterhood of the Traveling Pants 2"



Lesbian.