This is an interesting story I just read on CNN's website. Makes you think...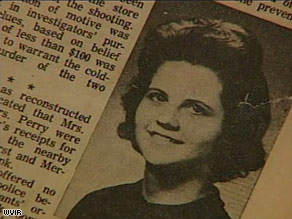 (The two women who were killed...)
(CNN)
-- Two months before dying, a Virginia woman confessed to killing two women nearly 42 years ago, authorities said Friday, telling police she shot the women because they had taunted her for being a lesbian.
Sharron Diane Crawford Smith, 60, confessed in a November 28 interview to shooting the women at a Staunton ice cream store in 1967, authorities said.
"I was just pushed so far," Smith said, according to a transcript of a police interview.
Smith was arrested and charged with first-degree murder in the deaths of Constance Smootz Hevener, 19, and Hevener's 20-year-old sister-in-law, Carolyn Hevener Perry, according to CNN affiliate WVIR.
But health problems forced a postponement of a December court date, WVIR said, and Smith, who had heart and kidney problems, died January 19.
Authorities on Friday said they consider Smith the guilty party and are working toward closing the case.
In a transcript of the police interview, Smith told police she and the women worked at High's Ice Cream. The night of the shooting, she went to the store to...
click here to read the rest of the story...