Watching the BET Awards last night, I realized two things: 1. If Beyonce put out an entire album in Italian, I'd buy it. and 2. DAYUM, there are some hot women in R&B.
I mean DAMN. Honorable mentions go out to Beyonce's leotard/nightgown situation, and Alicia Keys speaking voice, dreamy eyes, luscious lips and blatant homosexuality. Let me know if I missed anyone who was there last night, and we'll add her to the list!
Cassie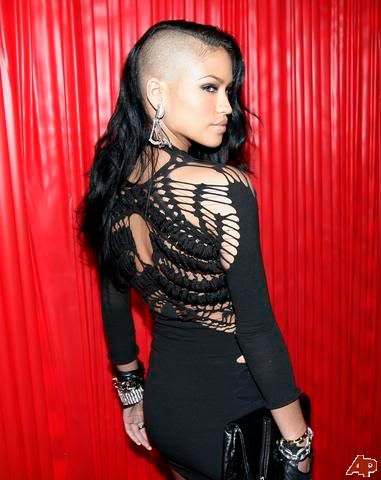 (AP Photo/Chris Pizzello)
I didn't even know Cassie was there until afterward, but thank god she was. Seriously, look at her. She could be one of us RIGHT NOW. Without any sort of lesbian bootcamp or anything. We'd just need to stand her up, point her in the direction of a hot chick and pull the string in her back, and I guarantee you, her instincts would know what to do next. And *here's* hoping I'm the chick we point her in the direction of.
Taraji P. Henson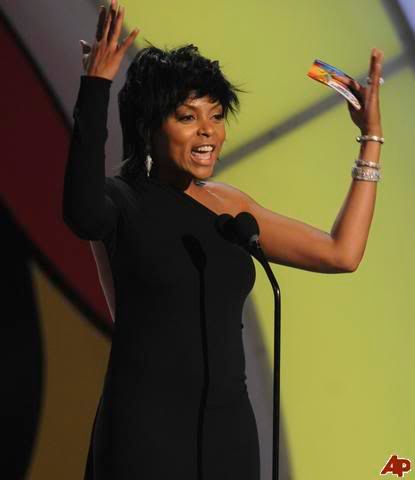 (AP Photo/Chris Pizzello)
Ok so she's not an R&B star, per say. But she sings, right? And I'm sure she has both rhythm and blues. And it was the sight of her backless dress that first made me think to do this post. So thank you, Taraji's...backless...dress! Plus, she played Brad Pitt's mom in
Benjamin Button
, so that means she prolly met Angelina Jolie. Which also means, they probably totally made out
in my dreams
. Points!
Keyshia Cole, left, and Monica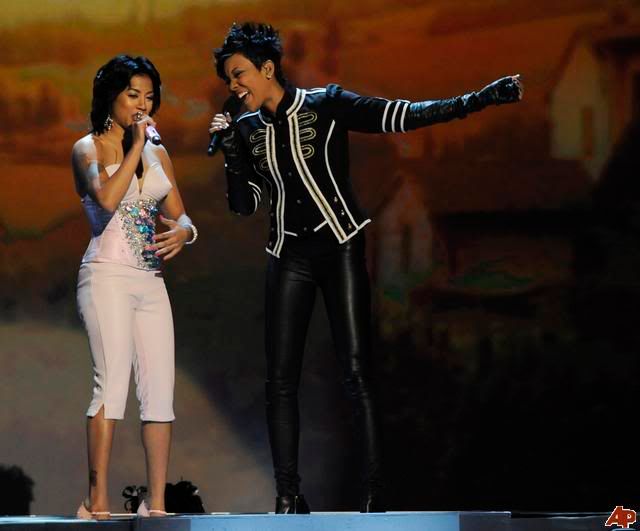 (AP Photo/Chris Pizzello)
MONICA!! I love her. Have always loved her. Will always love her. And baby was looking FINE last night. You see, she even made me talk like I'm back in high school and "baby was looking FINE" is still current slang. That's the effect her skintight (mmmm) outfit has on me still hours after seeing it for the first time. And she can sang...and she looks like THAT when she's sanging...and...and...
Ciara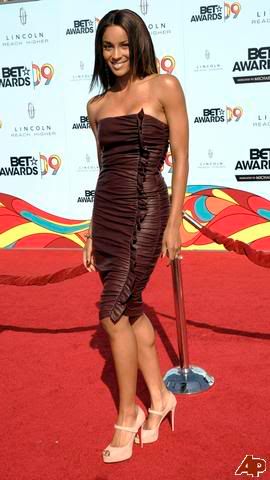 (AP Photo/Chris Pizzello)
Now I'm working on my positivity, and being grateful for life and for people and for talent, etc. So it pains me to say this: Ciara's "Heal the World" was um...wack? Did that word go out in 1995? Yeah. But it was. She prolly knows its, so its OK. She tried. Her heart was in the right place. AND she was dressed super appropriately during the song. I loved that. If only she could be seen and not heard last night. It's OK, I'll just run through a few notes with her and we'll do riffs and um...some other musical words...to help her on her vocals. Then she can teach me how to dance, perform, write, and choreograph like she does. Anyone remember "Like a Boy"??? That ish was CRAZY good. It's official: all is forgiven. And thank you for that dress you arrived in!
Keri Hilson / Zoe Saldana
Now that buttery goodness of Zoe and Keri was just too much to capture in a single photograph. You needed moving pictures to really start to understand. I want to know who these people's trainers are, their nutritionists, their mama's, their preachers...everything.
Cause again I say: DAMN.
And thank you. All of their left and right boobs.