Bren, here: Roving Lesbian reporter bringing you into Minx awareness.
No, not a fury woodland creature or a sexpot in a negligee; Minx is a ground-breaking daytime storyline on ABC's All My Children.
Marissa + Bianca(Binks) = Minx... and this is a coupling you don't want to miss.
Exhibit A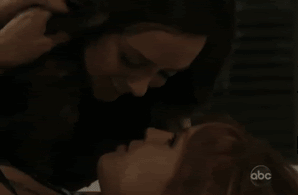 Now that I have your attention, I'm going to point out


10 Reasons Why Every Lesbian Should Be Watching AMC
1. A gorgeous brunette with dreamy eyes: Christina Bennett Lind
Listen to Christina
interview
on Out N About Radio. *Swoon*
2. Christina's character: Bianca Montgomery
An iconic character (played previously by Lacey Chabert and Eden Reigel) who has set quite the record for Lesbian trailblazing on daytime tv:
- First regular Lesbian/Bi high school character
- First daytime Lesbian kiss
- First recurring or regular Lesbian character
- First daytime Lesbian wedding
Bianca has also addressed other important Lesbian issues like:
-Lesbian divorce
-Sperm donated, artificially inseminated babies
-Same-sex, second parent adoption
-Custody battles involving non-biological same-sex parents
What I love best about this character is that she is consistently portrayed as an honest, moral, grounded, loving person, which is important in putting across an image of Gay people as upstanding citizens who contribute to society.
3. A beautiful redhead with a firecracker personality: Sarah Glendening
Watch
this
, I promise you'll have a newfound appreciation for kazoos, after.
See? I told you so.
4. Sarah's character: Marissa Tasker Chandler
Marissa is the first of Bianca's love interests to have solid air time. In two previous relationships they sent Binks and her new love interest off to Paris to "live happily ever after" without actually pursuing the storyline. We got seriously blue-balled, Y'all.
We're making progress, because this time the entire relationship has been shown onscreen, getting as much airtime as other straight-couple storylines.
Not since Dana and Alice, have I fallen so deeply in love with watching two women fall in love. (I liked Calzona until Arizona got jealous/wishy-washy and Callie slept with Mark, they had a baby, and it turned into an episode of Sister Wives)
They've really taken the time to build a solid foundation with Minx and treated their story just like any other straight couple falling in love.
5. Sarah and Christina's love and support for these characters, this story, and our community is huge.
Read this recent
interview
: you'll be impressed, promise.
Their closing statements made me cry like a baby and start singing The Edge of Glory.
_________
This post brought to you by...
CLICK HERE to get $25 off your first booking!
_________
6. #MinxMadness
There is a whole Lesbian following on Twitter, known as #Minxbians. Search the trend topic #Minx to see what I mean. Sarah and Christina, themselves, tweet with fans (ie: ME)
Those are in response to a
drawing
I posted, which they saw and got a kick out of. SG & I went on to have an extended conversation of witty banter that made me love her even more, and wish I was portraying Bianca opposite her. *Crush*
And they are open to suggestions on how they can present their scenes genuinely.
These girls are paying attention!
AND if you're watching the show, you can Tweet with hot Lesbians about it. And Tweeting with hot Lesbians leads to MEETING hot Lesbians. And meeting hot Lesbians leads to "
getting to know
" hot Lesbians.
And we could all use some of that!
7. The Lesbian Bat Signal
It's a Lesbian storyline, period. That in and of itself should get you to watch. I've watched some pretty bad movies in my day, for the pure sake of it having girl on girl action, and these characters, apart from the Soap Opera drama, have a genuine love story unfolding. It is your duty as a woman-loving woman to support screentime for stories like these. If well received, this could be the spark that ignites more LGBTQ characters on screen.
So, the Lesbian Bat Signal is shinning brightly for everyone to see. Will you answer the call?
8. People are coming back from the dead.
This seemingly has nothing to do with lesbians, or Minx....BUT, they're bringing back pretty much every character/actor that has ever been on the show. Sarah Michelle Gellar (for all of you Buffy loving Lezzies) will be appearing in the next couple of weeks.
You know you can't resist this:
9. The show is headed for less censoring.
All My Children will end it's 41 year daytime tv run next month and is slated to switch ownership and return in January as an online or cable series.
You know what that means, right? Cable/online = Less restrictions = More #MinxLovin
Oh what I'd give if we could get a Tibette- worthy love scene...
10. And the icing on the cake:
As of Tuesday, Minx made headlines, crashed AfterEllen.com, exploded on Twitter, and made thousands of Lesbians drop dead in their tracks with daytime's very first shirtless Lesbian horizontal makeout session.
Here are some of the Twitter responses to that scene:
The moment it aired
After the clips were aired on YouTube (where it has already gotten 50,000+ hits)
And the scene, itself:
Are you okay? Should we call an ambulance? Need to watch it a few more times? Go ahead, I'll wait. I've only watched it 303 times since yesterday, myself.
Rumor has it that Minx will seal the deal on Friday (you're going to watch now, aren't you?), and if Tuesday's scenes are any indication of what's in store, I advise everyone to have a paramedic on hand with an oxygen tank and a defibrillator.
Kudos to All My Children for wrapping up 41 years on daytime television by going out with a bang, literally.
----
Follow Bren on twitter at
twitter.com/radbren13
!!