if you read my
FAQ's
, or look at the post below, you'll notice that i am black.
that being said, id now like to interrupt regular programming to complain about something on the L Word.
i was just looking at my fav L Word fan site
www.thelwordonline.com
and saw that they had new promo pics from season 4. this one stood out to me: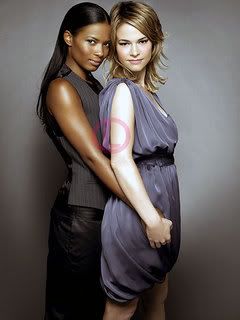 alright. so ive known about Papi and Marlee Matlin and Cybill Shepard (huh?) being added to the show. i talk to hundreds of lesbians every week. and with all of that, ive heard NOTHING about this black chick. i found myself asking (as Kit would), "who dat?" her name is
Rose Rollins
and by the looks of things, she's gonna get down with Alice. *yay*.
but that made me think about my random issues with the L Word's black characters.
the first of course being Kit. Pam Grier is an icon. she's growing less young gracefully and im sure she's a lovely person. in real life, she seems to be articulate, poised...you know, normal. but on the show, she says things like "Who Dat?" (i DIED when i heard her say that!) and "uuh UH girlfriend." she doesnt write her lines. so this must be how the writers think we talk. and just because
i do
talk like that, it doesnt mean we all do!
now...i noticed something in Season 2 and 3. when you put a hot comb to Kit's hair, she all of a sudden starts talking less ghetto. have yall noticed that?? Put that girl next to Bette, with both of their hair straight as a board, and instead of hearing about how "dat fool done her wrong girlfren," instead you almost think you're watching an episode of "Frasier"!
also, when it comes to black
men
, they go completely in the other direction. remember Tim's coach friend from season 1 and the return in 3? he talks like a surfer dude. and Kit's son. "dude...no way man." i understand that we talk in all different ways. im a bit of a mixture between Ozzy Osburne, Arnold from Diff'rent Strokes, and Edith from All in the Family.
but it just seems to me the L Word writers have never met black people before. so i'm hoping with Rose's new character, we'll get to see a dark-skinned girl speak with the sense her mama gave her. who can be sexy, funny, and get through a conversation without saying "sheeet."
by the way, theyve named this character "Tasha." TASHA!! *sigh* i guess i should be grateful it isnt "ShaKimberly" or "LaJennifer" or RayRay.
< /rant>
Season 4 starts in the U.S. on January 7th. watch-party at my place?