so check it: im a little obsessed with Persia White.
why? well, cause, i mean DAMN.
look
at her.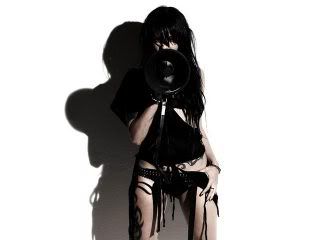 (
www.PersiaWhite.com
)
Persia is one of the 4 friend-girls on the tv show "Girlfriends." i never watched the show even though its been on for years. but a few weeks ago, i watched an episode on a saturday night...and got hooked. they have a little marathon of old episodes every saturday.
on the show, Persia plays the bisexual (yuuummm), kinda strange chick in the group. and in real life, shes in a freaky band. like...Jada Pinkett when she's not being straight, and doing her hardcore band thing, freaky. and its HOT.
i sooo appreciate the message in this ad for PETA, but i gotta admit, i watch the first 26 seconds of it over and over again cause shes...hot. you know?
im watching an episode of "Girlfriends" right now, and Persia just walked in the scene and said only these words: "Damn, can you believe my vibrator broke?"
im sitting in an apartment by myself, but i swear i said outloud, "DAMN." and started writing this blog:-)
here's Persia going all Angelina-post-2003 on your asses: