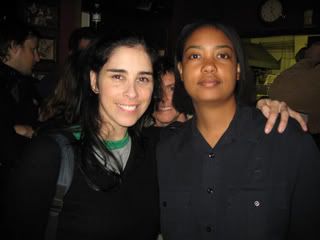 Once again my scorn for Los Angeles gets offset by a rad night that I probably could never experience anywhere else. Where else can you see Sarah Silverman
and
Janeane Garofalo on the same
stage
carpet, a mere 12 feet away from you and your $6 beer?
Yes, my friends, last night at L.A.'s Largo was pretty much *they-could-pass-for-lesbian* heaven. My crew and I went for Silverman, were completely surprised that Garofalo stopped by for a hilarious set, and pretty much
killed
by one of the openers,
Tig Notaro
. You might recognize Tig from Sarah's tv show. You know, the one where Sarah decided to become a lesbian? Yeah...that was my favorite one too:-)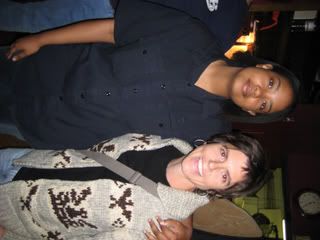 Tig made our entire table (which consisted of 3 and a quarter lesbians) cry laughing. And not the, 'oh this is so funny, let me dab my eye hole with the corner of this napkin,' kinda crying. I'm talking about, 'we can't breathe or see through the tears, that chick owes me a contact,' kinda crying. I absolutely couldn't
wait
to get this post out to you guys to pimp the hell out of
Tig Notaro
:
Add Tig on myspace at
www.myspace.com/tignotaro
and tell her I sent you :-) And if you ever, ever, EVER get a chance to see her live on tour, or on some talk show, do not miss it!