Name: Daisy
Age: 18
Location: South England, UK
Status: Single
Looking for: Friends, Relationship
MySpace:
www.myspace.com/rhythmix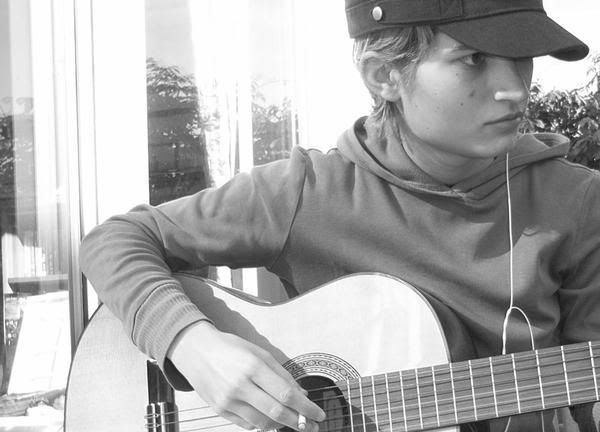 "Well hey, I'm Daisy. The least fitting name in the world. But it's mine. I'm a musician and it's my world. But, there's a serious lack of girl in the world of musician. I'm painfully single and I'm a hopeless romantic. If you're anything like me, you'll know that's a bad combination. Hopeless is the operative word. I'm looking for gay friends (from all over the world!) because... well it's lonely here for a single lesbian. Maybe a date. But definitely friends. I live in a city that has ONE gay club (full of men...). Nuff said, right? I'm tired of going home knowing that girl's not going to call me, y'know?

Sooo *settles down with a steamy mug of cocoa* I wear my heart on my sleeve and I'm my own person. I love the way that I feel when I'm wearing a tie. It's me. I'd like someone who smiles at me when I wear it. I love to laugh, obviously, and I have a wicked sense of humour (sillyness is the way forward, ladies). Being a middle-child, I thrive on attention, but I'm looking for attention from one particularly amazing girl. One I can write trashy songs about and sing to on the beach with my guitar :) or maybe paint you a picture.

...or just play cards and giggle in bed with...
(I bet you're wondering why I'm still single :P)

I'll talk to anyone about anything and at any time of the day. I love getting up at 5am because it smells so unlike any other time of the day. Especially in winter. I like driving at night with no lights on and my head out the window. Simple things. I'm also the person who makes annoying comments at the TV during a program you wanted to see. Just to make YOU giggle. You resist, but I see your smile."
I featured a couple of Daisy's vids back in January. You can see that original post by clicking
here
! Contact Daisy @
www.myspace.com/rhythmix

(This is part of my *Daily Lesbian* feature! If you'd like to be featured, please read
this post
and follow the instructions. I'll feature any women who are looking for a date/girlfriend or just a friend, from anywhere in the world! Please read instructions carefully. :-) Thanks!)