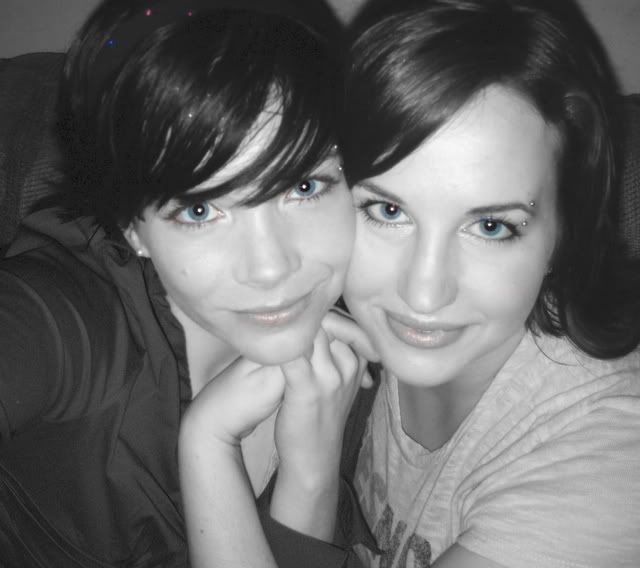 Hee, I said 69.
As most of you know, one of my main goals in life for the past year and a half has been to help you guys meet new friends and maybe even a girlfriend through my website. I set up the "Lesbian Blog Dating Experiment" on myspace in the spring of 06 which has since brought together countless people. And this year I started featuring a different chick (kinda) each day in my
"Daily Lesbian" section
of this blog.
I get messages from people who give me their success stories all the time. And it's ALWAYS amazing to hear about. I still can't believe it, actually. That I somehow helped two people find each other in any way...boggles my mind. This week I got a couple of wonderful messages from two readers. I featured Amber a few weeks ago, and this is what happened next, in their words:
Amber (California) said...
Arlan, I just wanted to tell you THANK YOU! You said that knowing that you got people "laid" made you happy. Well I just wanted you to know that you got me more than just laid... Because of you I found the girl of my dreams!!!! With the kind of love where you both hold each other and cry because it's just THAT DAMN AMAZING! We were sitting here last night thinking about how we found each other and Rachael and I wanted to thank you! About two nights ago Rachael said that I was talking in my sleep and said "Arlan is awesome" or something to that effect. hahahaha! Seriously I never knew that love could be so deep. She is the most amazing person I have ever met! I'm so happy! It's the most wonderful thing that has ever happened to me, all thanks to you! :D Thanks cupid!

-Amber

Rachael (Washington) said...
Dearest Arlan
OMG!! Seriously?? I had NO IDEA that two people could mesh so well, feel so similar, and love each other so intensely as Amber and I do. I really don't even know what to say, except for the fact that I am SO LUCKY!!!! I sent her a message, just saying hello, and here we are. I'm sitting at her computer writing you a MASSIVE OVERDUE OH MY GOD THANK YOU THANK YOU THANK YOU letter! Amber and I had INSTANT chemistry, and when we met in person for the first time I was literally weak in the knees. I actually hopped on a PLANE and flew to see her--THAT is how amazing our connection is. A connection that would never have happened, had not the hands of fate stepped in and you posting her as the Daily Lesbian. The biggest and most amusing irony of it all (in my opinion), is that I wasn't even looking for a girlfriend. I almost never pay attention to the Daily Lesbian features. (I read your other posts of course, LOL) But I saw her picture, I sent her a message, and here we are, madly in love and ridiculously happy. I want you to know that your featuring available lesbians WORKS. Please keep posting the Daily Lesbian feature, knowing personally that it worked *magically* for me, so I can only IMAGINE how many other happy couples there have been/are going to be.

You ROCK Arlan. Thank you so so so much. I'm am so with Amber. She is the most amazing woman I have ever met. Thank you for bringing her into my life.

Love,
Rachael
First of all, doesn't Amber look like a young Bjork? And second of all, how freaking cool is
that
?? I wish you guys only the best! And thiiiird of all, as beautiful and exciting as this all is, I can't help but to feel just the wee bit down that after all my work hooking people up, I still can't seem to find a girlfriend, or even a
date
for that matter. People say that I shouldn't look so hard. But to be honest, I haven't been. For months. But now I'm your daily lonely lesbian...*sigh*
Alright, back to the celebration! If you are single, and would like to be featured on my site, go read
this myspace blog entry
to see how. If you are already in a relationship and you want to shout it to the world, visit
this blog entry
to view and add to the nearly 500 couple pics that have been posted just in the last month.
If you have a similar success story about meeting someone on my site or myspace page, leave a comment or send me a myspace message and I'll post it!
If you would like to date me, holler at your girl:-)