8. She already went gay for you.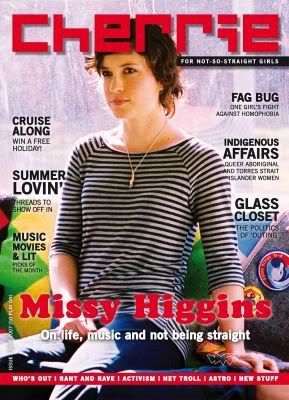 7. I still believe that Michael John's from this year's American Idol is Missy's long lost Australian brother:
6. "...it sounds kind of like something that's squishy and small and that makes squeaky noises."
She agrees with me that the word "widget" is a necessary evil and has embraced it:
5. She's the anti-diva.
Thursday night I had a chance to catch her concert at Chicago's Parkwest Theater (best mid-sized venue EVER, bi the way). As always, she was humble, engaging, and...rockin'. At one point after taking a sip from her water bottle and randomly noticing that it said "now with 30% less plastic," she wondered aloud if that meant it also had 30% less water. I *heart* her.

4. She said the words "massive bra" (brar) on stage.
I dig that.

3. That one chick who proposed to her during one of her songs
...and the goosebumps I got during this song:
2. I'll have a tall vanilla aussie with a shot of awesome, thanks.
When she sings this song live, she makes you feel like it's summertime and you're lying in warm grass under the stars...even if it's 17 degrees outside (true story):
1. Every other woman at the show was a dyke.
The other half were with their manfriends/husbands. So I got to play my favorite game ("Dyke!") Dyke. Straightie. Dyke...Straightie. Oh there goes another dyke. Oh there goes another straightie. By the end of the night though (much like my house parties), everyone was a lesbian. Even the dudes. Missy just has that effect.
One blogger said it best:
"The second reason this concert was ridiculous is the sheer number of ladies who like ladies in attendance! Like, (I) seriously played competitive basketball for a cool 1o years and I have never seen so many crew cuts (on women) in the same room...!"
Amen.