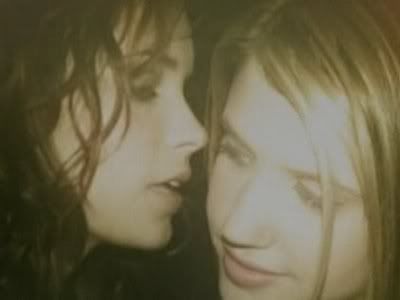 What did you guys think of the series and the final season? **Note: There may be spoilers in the comments if people give their opinions...just be aware.**
I know there are some hardcore Spashley fans who will disagree with me on this, but it seems like we all just sort of forgot about SON. It might have been due to the fact that there was just SO much more quality lesbian content on mainstream television and it just got lost in the mix (*please note sarcasm). Or no, it's probably because we decided that we
don't
like hot girls (or
guys
--come on, even
would do
!).
Actually it's prob just cause the network it was on thought it would be a good idea to spread 40 episodes over almost 40 months and that no one would notice. Hmmm...not the
best
idea when your target audience is 13-19 (+ older chicks like me who just like the hot actresses on SON) and has the attention span of...wait, what was I saying?
So yeah I used to race home on Fridays to catch the latest episode of SON, and because they took FOREVER to get back to the 2nd half of the 3rd and final season, I totally forgot about it. Like, seriously. To a point where I've even seen the two main actresses on the net doing interviews recently and it didn't even occur to me that SON might have started up again. That's how bad it got.
Good thing I was able to recently catch up! I must say that it was a very satisfying final season, and I think the entire team--creators, cast & crew--deserve lots of credit. It faltered a bit here and there, but how cool was it to have non-outcast chicks making out and sayin' normal...STUFF... on uber mainstream TV?? I know you Europeans have been watching girls, ya know,
do it
on television while having dinner (and alcohol, lots and lots of alcohol) with your parents for YEARS, but we North Americans haven't been as cultured...and we likes! So a hearty round of Juno-kudos to you SON folks. And hey, if the chick who played Madison
ever needs a ride anywhere, I've got a month-long bus pass, a map of the city, and a big heart. Let's ride.
Whether you've been a fan of the show since it started, or you're just hearing about it now, if you haven't seen any or all episodes of the final season, gather 'round ye olde 'puter and get ready for some pre-Superbowl/L Word gay times!
Just
CLICK HERE
(or go to the-n.com) and on the right-hand side of the page, you'll find a link to "full episodes." Choose "show all episodes" and get to watchin'. Remember, the episodes are listed from the most recent down to the beginning of the season. So start at the bottom and work your way up. You ladies are used to doing that already, so it shouldn't be too much of a problem;-) For those of you who are just being introduced to the show for the first time, there are 3 seasons, so make sure you start with Season 1 if you really wanna get in there...the whole series is approx 13 hours of film if you watched it without commercials. It's like they made 8 movies in 3 years! ...or somethin.
Here's a great fan tribute to the series from youtube. The sound is a bit iffy in some spoken parts but overall, I digs it!:
(credit: LegendsNvrFall12)



What did you guys think of the series and the final season? **Note: There may be spoilers in the comments if people give their opinions...just be aware.**