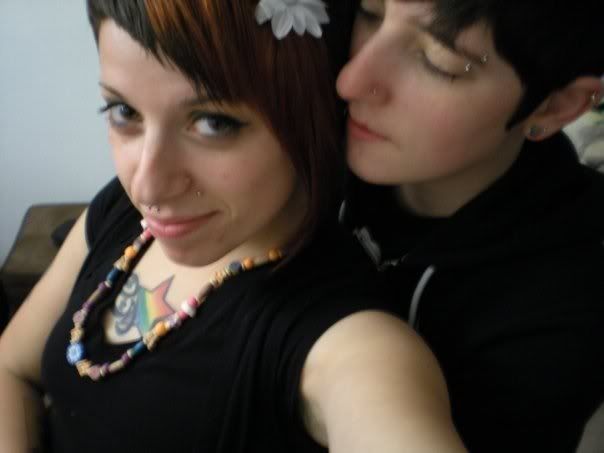 I got this message from Jeru yesterday:
Arlan,

Back in December you posted this: yourdailylesbianmoment.blogspot.com/2008/12/im-going-to-go-take-shower-and-wash.html
and this:
yourdailylesbianmoment.blogspot.com/2008/12/suck-my-kiss.html
the day before.

Just wanted to let you know that Jenna sent me a message on myspace back then because of your blog... and we have now been dating for 3 months... so, thank you Arlan, for mentioning that we both had Uh Huh Her songs and are from the same area, because I'm sure that prompted Jenna to send me a message in the first place. :)

Keep on blogging. we love your daily moments and think about the fact that you, in effect, introduced us. Thank you for doing what you do and helping lesbians everywhere find each other and realize that they're not alone, even in the tiniest town in the Midwest or somewhere else where homosexuals don't run aplenty. haha.

oxox
Jeru
Isn't that AWESOME? I had no idea. I love hearing these stories from you guys. Keep them comin!
I have a new FACEBOOK version of my *lesbian blog dating experiment* that started on myspace and has brought together hundreds of friends/lovers/girlfriends over the past few years.
Click HERE <--
to check it out...and *share* it on your profiles (if you're out;-) ).