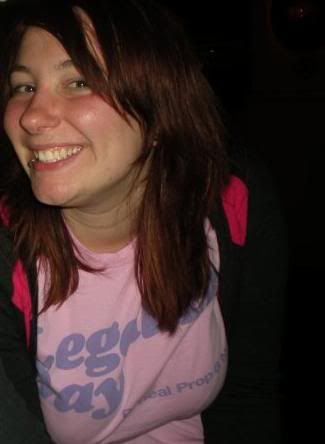 I've posted a couple of (Totally British) Rachel's pieces (
here
and
here
) in the past. I think she's brilliant. I envy her talent and am well aware that I'll never...ever...be the writer she is. Thank goodness SHE is:-)
Read every word...soak it in, and tell us what you think of it in the comments. She'll be reading!
Have you ever noticed that the majority of advertising is aimed at women? Make-up, hair-dye, wrinkle cream, clothing catalogues, weight-loss programmes, girls-night-in CDs. We are the consumers. Capitalism weighs on our shoulders and we hold it up, we embrace it, we keep it going. Capitalism taught us we had to look a certain way and care what others thought of us. I feel sickened when I watch the tv now, every advertisement that sells gossip or powders or paints or wonder bras to the nation makes me feel more and more like nothing will ever be enough. Give up now, because you will never look as good as you're meant to- as a woman. You'll never be the perfect size because as the years go by, 'healthy' changes. 'Healthy' gets smaller and smaller, and the protruding bones we used to see as a sign of abuse are now a victory flag. Malnutrition is this year's fashion. And no matter how many times the media claims it's fighting back, it isn't. You don't make as much money selling food, as you do plastic surgery. While half of the world starves, the other half vomits. We've been sold a dream that one day, some man will come to us and fulfil our every want; that we will be completed. Excuse me if I find this a little offensive. The weaker sex- cover us with paint and sell us on the streets.

Women are not allowed to age. Men grow older, wiser, and apparently more attractive. In this society, there is no such thing as an attractive older woman. The Mrs Robinson's of the world are ignored these days. I have seen perhaps one anti-wrinkle advertisement for men. Cover those eye-bags! Cover those smile lines! Cover any sign you may have lived! Paint that smile on, pluck those eyebrows, shave those legs, don't forget your underarms, bikini line, and make sure your skin looks the right colour. Is your hair shiny enough? Are you slim in the right places? Do you have CELLULITE?! Don't worry, there's a cure in this knife. You can get anything for the right price. Botox, face lift, liposuction, home kits! God forbid you look like you've been out all night. Time is your enemy. You need to look good, not just for 'him' (whoever 'he' turns out to be) but for 'you' too (and by you, they mean 'them', 'the others', 'the enemy').

Women are a woman's worst enemy. Women don't like women. Women like the approval of men. We use the same judgement that has been applied to us, to judge others. Fat, skinny, ugly, slut, skank. If some girl is dating your ex-boyfriend, she's a slut. If there's a female in a band, she's a slut. A rockstar gets married, the wife is a slut. And if she's not a slut, then she's probably too: fat, skinny, ugly, skanky. We use these terms of aesthetics to insult our 'enemies' because when it comes down to it, capitalism taught us we are all in competition. We are against each other because we all need to look the best. Because we are fighting for attention, and because we've been taught that the only way for a woman to get attention is through her looks. We've been set against one another.

And what about women who do like women? Don't pretend you don't know what's coming. We all know what society thinks. Women like women when they can't get men.

Women are caged animals. Stuck inside staring at a mirror, trying to be sure that the mask is intact, many women will not leave home without that smear of paint. Tribal warriors perhaps, or maybe just children in face-paints, maybe just actors in costume. Women have been taught that the real them is not good enough. The real them is something that needs to be changed, needs to be hidden. There is a whole section of make-up advice dedicated to 'the natural look', because god forbid anyone see you in your actual natural state. In this century, the 'natural look' is one of make-up and hair straighteners. Because nowadays, you're considered strange if you don't wear make-up, talk about boys, file your nails, wear pretty dresses, and flirt to get what you want. You aren't considered to be 'girly'. You aren't good enough for your own gender. You are an in-between and a failure.

'Women' are the embodiment of consumerism and capitalism at it's most manipulative stage. We have been taught to bend, to be moulded like clay into whatever society deems fit for us to be. As the years go by, the mould we're trying to fit into gets smaller, more complicated, and more towards the impossible. But we'll keep bending. Because we believe it's the only way to be.
*swoon* Seriously, Rachel, I speak on behalf of my entire readership: will you marry us?