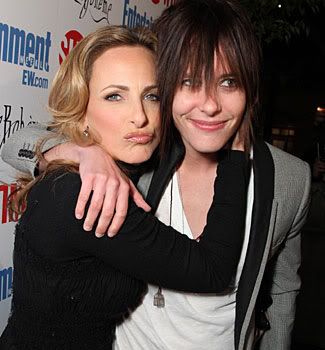 By now, I'm sure you've heard about the reality show version of the L Word that's being put together. I mentioned it a few days ago on the blog, and I've seen it all OVUH the lesbian airwaves (or something). The initial reaction has been mostly negative, from what I've seen. But you know what? Guarantee you, you'll be watching that ish. I've said it before and I'll say it again, Ilene is a diabolical (and bi-abolical) GENIUS!
Here are the deets in case you wanna like...apply, or whatever. Oh and if you're going out for what you consider to be the *Helena* role, please email me first, so we can workshop it. And by "workshop it," I of course mean, "so that I may have sex with your body, face, and torso area, and film it, and then watch it
with
you while having more sex about your person."
**NOW CASTING**

"THE REAL L WORD: Los Angeles"

Are you and your friends proof the The L Word exists in real life?
The L Word was a runaway iconic hit, affecting millions of lives – imagine what the real life version will do!

From Showtime, Golden Globe winner Ilene Chaiken (The L Word) and Magical Elves (Peabody Award-winning Project Runway & Emmy-nominated Top Chef) comes a documentary series about the real lives of lesbians.

THE REAL L WORD: Los Angeles will follow a group of real-life, high-profile, left coast lesbians as they go about their daily lives, at work and play. The producing team plans to show viewers that the cast can be every bit as glamorous, fashionable, fabulous and even as cutthroat as their celebrated-but-fictional counterparts.

We are currently seeking ladies from all walks of life to be the pioneering voices in this important series. Must be based in Los Angeles or moving soon to the area.

We want all types, from the power of Bette to the mojo of Shane.

Are you and your partner about to adopt? Do all the bouncers in WeHo know your name? Do you consider your friends family? Are you coming out of the closet and want to help others by sharing your journey? Are you or someone you know moving out to the more Sapphic-ly welcoming culture of L.A.? Are you a card-carrying 'power lesbian'?

Whatever your story, whatever your situation - we want to hear from you!

Please email casting@magicalelves.com; tell us about yourself, and include a recent photo.
--Text taken from the horses mouf: www.sho.com