I posted this trailer
back in June
when I first heard about it. Now that the premiere is right around the corner, I don't think I can quite express how THERE I am. I'm gonna dress up in a cape, an eye patch and some fangs, and go line up about 5 days before the first showing at my local. Twilighters, Potterers and Caribbeaners won't have NOTHIN' on me. You hear?
I think the most remarkable thing about my passion towards this movie is that Keira Knightley isn't even speaking in her lovely posh British accent. If you know me, you know this is a stunning blow to all things natural and right. However, she had me at: 'I want you to punish me.' Ready, set, POPCORN!
Also, if you're looking for a Keira fix before the big day, do yourself a favor and watch 'Never Let Me Go.' Its a super strange film that won't be for everyone, but I absolutely love it. I dig the fact that she doesn't choose cookie-cutter films or play the same character over and over again. She's truly talented, and just
happens
to be hot...instead of the other way around, like lots of today's starlets. Myself included;)
The film is also complimented by a great cast, including Emma Stone's bo-fren Andrew Garfield,
MY
bo-fren Carey Mulligan, and an appearance by the Fingersmith herself, Sally Hawkings.
Here's a link to the trailer of this quiet little film:
http://www.youtube.com/watch?v=sXiRZhDEo8A
___
Featured Juliet & Juliet member:
Alison, 23, Ohio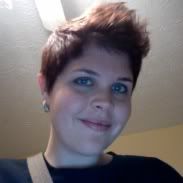 Visit her profile
HERE
!
Juliet & Juliet is my new matchmaking and social network. If YOU'd like to be featured and be seen by thousands of chicks who dig chicks worldwide, join today and use this form:) -Arlan
You must be a
paid
member to access the nearly 500 member profiles and/or be featured.