10. Shane Tanks You.
At first I thought the budget for Shane's wardrobe had been cut since it seemed like all we've seen her in this season is tanks. White tanks. Black tanks. Tanks half on. Tanks half off. And while we all know good things happen when Shane wears tanks:
, it was good to see her get her fashion icon groove back later in the episode. She was looking especially cris-pay. Made me wanna holler at her for the first time in a long time. Shane baby, get my number from Helena.


9. Bette Actually Said the Words "You betta check yo'self befo' you wreck yo'self!"
I think I high-fived the TV when this surprising line came out of Ms. Porter's mouth. Kit must have been SO proud. I was so ready for Kit to stop the scene and start singing this to Bette:


8. Angelina Robinson Should've Just Directed Everything After Season 3.


Seriously. She wrote and directed this episode and the best episodes from the past few seasons. Now mind you, every episode would look like D.E.B.S., but who cares?? It would be fun as hell. This episode was funny, enjoyable and entertaining. Somebody needs to give this woman her own show already and PRONTO. "GIRLTRASH" would work, people. I'm just sayin.

7. Helena Should Talk More.

She just should. This is why:

Take special note of how she says the words "naked," and "hardcore" and "placard."

*swoon*

6. "...And That...is the Night...the Lights...Went Out...In WeHo!" Anytime Bette puts her dinner napkin to the side or gets *that* look on her face (you know the one), where she's juuust about to go OFF on someone, I'm always taken back to this Julia Sugarbaker scene from "Designing Women:"


5. Jenny, I Think You've Lost Your Mind...
Mia put the crazy poncho on and was off to the races in this episode. You know when Kirshner saw the script for this season, she had to be like, "Eff it. It's my last season, it'll pay for my rent for the next 5 years," and she just ran with that shit. Good for her for doing her job...and doing it well.

Now my good friend Terra Naomi certainly didn't have this Jenny in mind when she wrote this song a couple of years ago, but it's amazingly fitting:


4. That's Exactly How it is When I Walk Into Gay Pizza.


People wanna do shots of marinara sauce with me, take pics of my disgust at what's going on in the alley behind the bathroom me, and generally just kick it with me, pizza style. So I feel Nikki's pain. Sometimes you just wanna eat your gay pizza in peace. I still don't know how Nikki knew there were cameras to wave at in front of HIT, but that's just a tiny flaw in an otherwise cool episode, so I'm gonna chillax about it. Her Oscar rundown was pretty cool, and sounded like a conversation I've had about 50 times with my friends. And she was 90% spot-on except for something serious that was pointed out by a guy on youtube today. He's upset about the fact that the L Word referred to Brandon Teena as a lesbian in last night's episode. It's really quite interesting, so click here if you want to watch the vid. If after watching it you feel compelled to act, the same person is heading up a video response campaign that he's going to send to the writers. Click here to see the quick clip that explains that.

3. Where's Molly? And Still No Jessie Spano Boob Action??
Ok Ilene. Clementine Ford (the chick who plays Molly) came out last week. It is your duty now to show me her half nude body any chance you...wait, I'm getting a message from my producer:

Clementine Ford is on the phone? She wants me to know what? Oh...Pill Lady, I TOLD you, I'm working here, OK. Tell Clementine that I will call her back and that I already told her I would be her date to Dinah. Geez. And tell her to wear that thing I like. She knows what I'm talkin bout. Yeah...just like that...yeah... AHEM ok! And Elizabeth Berkeley still hasn't upset me even 1/10th as much as I thought she would when it was first announced she'd be on the show. But you also still haven't shown me her boobs. What's the deal? Are we seriously going to go an entire season with the woman who was in the movie "Stripper" or "Stripblade" or...whatever the hell it was called...and NOT see her boobs? That's an injustice.

2. They Found *Alice* Again!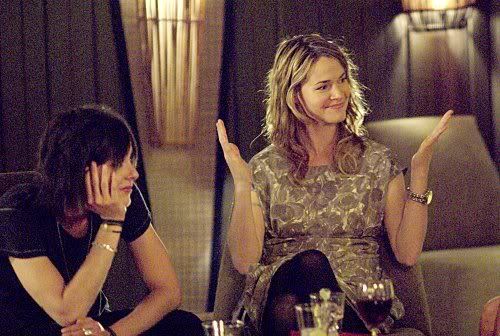 ...now only if they could keep track of Baby Girl. Hmm....anyhoo! I LOVED Alice in this episode. Finally, the Alice that we know and love. She's funny. She's clever. She's fiesty. She's sexy. And most of all, she's comfortable. Leisha acted her ASS off in this one. I don't know, something just seemed a bit off the first few episodes of this season. Aside from the letter reading on "The Look," I didn't see my old Alice anywhere. But perhaps again we have Angela R. to thank for making everyone feel so comfortable and get back to who they really are.

1. Alexandra Hedison is the Luckiest Dyke on the Face of the Planet:
Alright kids, here's the deal. Wait, I need a moment.

*deep breath*

Ok you know how me and Rachel Shelley(s) got married and everything. And you know how she is one of the hottest women on this earth, and how I take every opportunity possible to remind you of that? And you know how I like when she's on screen, whether it be sitting there, standing there, jogging there, laughing there, or yelling there? Well last night...last night I...I mean did you see...and then her leg...and then the stockings...and her moaning and she had wrapped her leg around...and then she had...*deep breath*
(I'm sure this video will be taken down at some point, so watch it while you can.)


Ok I'll admit it: I pressed my head against the screen every time it showed the back of Dylan's when they were kissing. Don't you judge me.

It's officially ok that there was no sex in last week's episode. I understand now that the entire crew had to prepare themselves for this scene. They needed their rest to focus.

I just want to take this time to personally thank Ms. Robinson for having the vision and the intelligence to put a half naked, very agile Helena on my screen last night. You are a scholar and a gentleman, my friend. I will erect monuments in your honor at some point, and after I stop giggling every time I say the word "erect" to the people helping me build these monuments, I will christen the monument with a bottle that is filled with liquid gold, milk thistle, and one of my tears.

BONUS!
At last year's Dinah, Rachel Shelley(s) made a surprise appearance (coming directly from my hotel room, of course) at Ourchart's "Be Scene" event. Here's how it went down, in case you missed it:


"Literally the greatest job I've ever had, people!" - Alexandra Hedison

...that bitch ain't lyin.