I happened upon an episode of Eastenders tonight while flippin' channels. PBS is BOMB, btw. First thing I see is the
Bionic Woman on my screen
talkin' all British like. Then there was a 6 or 7 minute scene with poor lighting dedicated solely to the selling of a motorbike...and I was sold.
I thought to myself, I says 'Self, what would be better than Bionic Woman talkin' all British on my screen right now?' And I answered, 'If Bionic Woman were to make out with a crying, wacked out, yet hot OTHER British chick.'
We both said a collective 'DUH' and then apparently Bob was our uncle, cause...
The best time to express your true feelings to your bff is on the side of the road, 'neath a crashed rig in the middle of the night, that's what I say, I do.
___
Featured Juliet & Juliet member:
Rosie, 19, Coventry, UK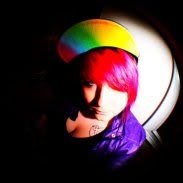 Visit her profile
HERE
!
'Photographer. Livin it up in Coventry UK. ok or not. Really i would prefer to move to back to canada after having such an amazing gap year. But *YAWN im stuck here for now. Woah. So im a mad photographer i dont stop shooting pictures. Play Ice Hockey, its full of hot girls why not. OH and i do generally love it, i play 4 times a week and play roller twice a week too! Yes Hockey. Oh and i cant drink anymore. thanksgallstones. I have a 19week old puppy goes by the name of Dora, shes a horror but oh so adorable...'Juliet & Juliet is my new matchmaking and social network. If YOU'd like to be featured and be seen by thousands of chicks who dig chicks worldwide, join today and use this form:) -Arlan
You must be a
paid
member to access the nearly 500 member profiles and/or be featured.